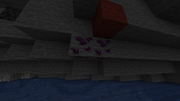 Pendorite is a material in BYG. It is used as an upgrade for tools and weapons, as ingredient for Pendorite Horse Armor or as a decorative block.
Generation
Pendorite only generates in the Forest Fault subbiome in the Overworld, and at or below y = 56. The ore comes in groups of up to 4 (Needs confirmation)
Obtaining
To obtain Pendorite, you will need a pickaxe of the same mining level as a Netherite pickaxe. Anything above or below that mining level will break the block instead. Pendorite Ore can be smelted in a Blast Furnace to obtain Pendorite Scraps.
Use
Netherite tools and weapons can be combinded with Pendorite Scraps in a Smithing Table to upgrade to Pendorite tools and weapons.
Pendorite Axe
Pendorite Pickaxe
Pendorite Sword
Pendorite Shovel
Pendorite Hoe
You can also combine two Pendorite Axes in the Smithing Table to create a Pendorite Battleaxe.
Pendorite is also used to make Pendorite Horse Armor in a Crafting Table.
Lastly, Pendorite Ore and Pendorite Block can be used as decorative blocks.
Community content is available under
CC-BY-SA
unless otherwise noted.